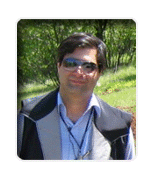 I was born in 1976 in Tehran. I started working with Lightwave3D as my primary 3D software and alongside that became familiar with 2D applications on Amiga like DeluxPaint or ImageFX since 1991. I used to work with Softimage3D and now Softimage XSI is my primary 3D software.
Director and producer and supervisor of 2D and 3D short animations. Designing and producing of Visual FX shots in commercials and TV series with 18 years experiences, collaborate with fellow artists and supervisors to meet challenging production deadlines in a positive work environment, working closely at IRIB (Islamic Republic of Iran Broadcasting) Complete knowledge Compositing and 3D Animation .
Software Proficiency
S

oftimage XSI

P

ftrack

2D3 B

oujou

M

udbox

eon Vue

D

igital Fusion

A

dobe Premiere

A

dobe Photoshop

A

dobe After Effects
EXPERIENCE
S

upervising Visual Effects and 3D animation

I

ntensive 3D animating experiences.

W

orking closely with Softimage|XSI as Primary 3D software

G

ood understanding of 3d multi-pass rendering techniques

W

ell versed Digital Fusion artist

V

ideo editing and production.

S

hort format directing and producing .

H

ardware & software installation and troubleshooting.

L

inux, Windows and Amiga experience.
Work Experience 1992- 2012
IRIB (I

slamic Republic of Iran Broadcasting) since 1993

D

esigning 3D Stereoscopic for magazines (Moje Magazine IRIB )

D

iscovery Center Aquarium (DUBAI)

AL-A

hmadiah Constracting and Training (DUBAI)

EREMCO AL-AHLI R

esearch and Studies (DUBAI)

F

reelancing MHB production since 2002 (France)